Can't believe it's nearly Christmas already.
Needless to say I am STILL waiting to hear anything from the engineer.
STILL
Now we just got hit with a pretty big snowfall, so I'm gonna start feelin pissy again.
Anyway, was able to get some more experimenting done on the floor.
And I think I have finally got the right combination of things.
The main pic shows my mock up of the floor.
A couple pieces of 2×4 and 2×6 screwed together.
I am going to take my 22 gauge aluminum, and cut it into 6 or 8 inch strips and whatever length is needed.
(with the new toy I picked up on a half price sale)

Nice electric shears.
They even leave a smooth edge.
Figured I will need them when carving out the sheet metal for all kinds of stuff on the truck.
Then instead of putting in a sharp 90 degree bend, I just give it a nice smooth ROLL.
And viola, a perfect cove.
I also think that I will do the wall in 2 sections.
Lower section, about 1 ft high (even with the wheel wells)
Sheet it with plywood but only secure it to the side beams with silicone instead of screws.
I already know that things move. Houses shift, panels move, concrete moves, everything.
So my goal here is to make sure that the FLOOR and the lower wall panel are joined together by this aluminum sheet and screwed to each section.
This SHOULD allow the floor and the lower wall section to act more like one piece when they move a bit.
Hopefully this will mean less chance of the flooring coating coming off.
The top part of the wall section can be screwed to the structural side beams of the truck.
I think it will only be the aluminum panel anyway, so it can just overlap the bottom part a few inches and kinda float on top of it. Maybe some silicone to keep it in place.
I gave it a light sanding first.
Then a couple of 1 inch drywall screws secure the side piece and floor piece together.
And coat with ….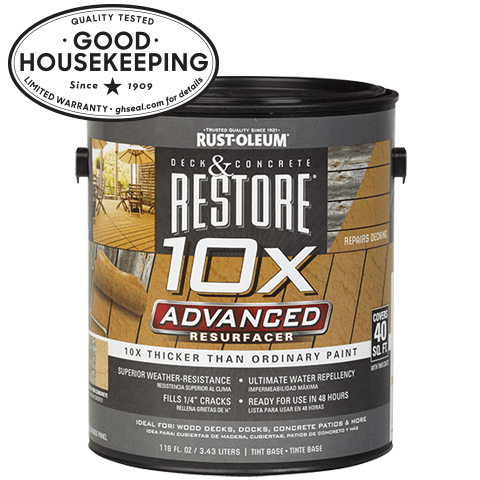 No need to try to build up the corner for the cove.
The screws get hidden perfectly.
A few coats, and I am ready for epoxy.
This stuff feels like concrete when its cured.
But has some give / flexibility, so it should be good in a moving vehicle.
Then top coat with this stuff
Picked up a can of this stuff and really like it.
No mixing, just paint on.
Pretty much self leveling.
It takes a couple of coats, but it fills all the rough stuff.
It leaves the surface smooth, almost feels like a vinyl floor.
But I will be able to patch it in minutes if it cracks at all.
AND at most it might cost me $150 all in.
I almost choked when my buddy told me how much he paid to have his ( now split and cracking ) floor done.  $1900 !!
But it was done by a  professional.
Granted it gets all done in an afternoon.
And yeah, it was ( supposedly ) commercial vinyl.
But come on. $1900 ???
At MOST his floor INCLUDING the cove up 4 inches is 5 ft by 12 ft.  So 60 sq ft.
So even if you say MAYBE $400 for the vinyl.  Which makes it over $6 a sq ft.
And MAYBE $100 for other materials.
That leave what…. $900 for MAYBE 4 hours labour????
So OVER $200 an hour to lay vinyl floor ???
AND it has to be repaired after ONE season???
Thanks, I'll try my way …
Oh yeah, and another buddy of mine has some left over 5/8 tongue n groove sub floor from his house reno.
He has enough to do the truck, and I have 14 cases of ceramic tile left over from when I did my bathroom.
Straight trade.  So the sub floor is costing me zero…..   I have had the tile for years.  SCORE